Page of the Month Recognition
By On the Trail of Our Ancestors
URL of this site: http://www.TrailofOurAncestors.com

BR>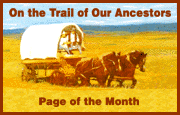 This Page of the Month Recognition was created with the hope of rewarding dedicated and hard working genealogical researchers who have chosen to share their research via an attractively designed web page It was featured from November 1997 through December 1999. The pages below are well worth a visit.
1997
NOVEMBER PAGE OF THE MONTH
Family Genealogy - A Passage in Time - Sherry Koshney's home page! Sherry has an attractively designed home page to highlight her almost 30 years of researching, enhanced by upbeat, easy to listen to music. The main lines which she is researching are Wannamaker, Lander, Hannah, Koshney and Suchla. In addition to her well researched genealogical material, Sherry has Genealogy Links Galore, an alphabetical index to over 1,000 links! She also has a lovely section entitled Pioneer Book of Poems which includes poems written by family members. This home page emanates personal warmth and enthusiasm and is well worth your visit. Do visit Sherry's home page, and also feel free to e-mail her at family-genealogy@home.com. NOTE: Sherry has unfortunately passed away in 2003. Her website is still online currently.
1997
DECEMBER PAGE OF THE MONTH
Wyoming Fulkerson Homepage - Bob Fulkerson's home page! Bob has a wonderful home page focusing on the descendants of Dirck Volkertson de Noorman, a resident of New Amsterdam in the 1600s. In addition to the genealogy of this family, Bob gives us a great taste of New Amsterdam with his colorful stories and wonderful sense of humor. (all based on fact, with probably a little "lore" in there! :-)) Topics include "New Amsterdam Days", "The Gold Mine" (including a Daniel Boone connection), and the "E-mail Page", a page where Fulkerson cousins can find others doing similar research. Since the Vigne line ties in so closely with this family (Dirck married a Vigne), these cousins are included as well. Even if you don't have Fulkerson or Vigne lines, you will enjoy reading the many stories, other interesting tidbits, and just learning about New Amsterdam, an important part of America's heritage. Do visit Bob's home page or feel free to e-mail him at fulker@wave.sheridan.wy.us.
1998
JANUARY PAGE OF THE MONTH
Ties That Bind: Ted & Pat (O'Connell) Brassard's Genealogy Help Page! (Unfortunately,Ted Brassard passed away in 2001. For information about his page, please see the following URL. Olive Tree Genealogy Home Page. (under Olive Tree Genealogy Page - New Netherland/New York section). Ted and Pat had a great home page that not only included their own ancestral lines, but included a section about their French-Canadian ancestors and a wonderful section on New Amsterdam which included *all* of the baptisms for the New Amsterdam/New York Reformed Dutch Church, for the years 1639 - 1730! It is obvious that Ted and Pat researched their lines for many years, lines which include Brassard, Kierstede, Pilote, DeLong, Anneke Jans, Barnum, Paine, Gilbert, Maxwell, Heith, Webster, Kirkham, Joy, Calkins and Baxter. They included a number of text files and GEDCOM files on their page.
1998
FEBRUARY PAGE OF THE MONTH
Across the Atlantic - Family History and Genealogy: Home Page of Casey J. Moton, and wife, Jill. (Ivin)! Casey and Jill have a wonderful home page that includes not only information on their main family lines, but also a great section regarding the History of the 39th NJ Volunteer Infantry, a Union regiment that fought during the Civil War. Casey gives the history of this group, as well as the men who were on the muster roll for this group. He also includes e-mail addresses of people whose ancestors fought in this regiment. Some of the family lines which Casey and Jill are researching are: Moton, Thompson, Brown, Leischner, Doran, Ivin, Abel, Koenig and Zellers. Do visit Casey and Jill's home page, or feel free to e-mail them at: cjmoton@alum.mit.edu
1998
MARCH PAGE OF THE MONTH
Genealogy in Pat Patterson's Pages! Pat Paterson is a wonderful example of a dedicated genealogist who makes excellent use of primary resources. Using various primary sources, Pat researches the Abbott, Branson, George, Hawkins, Merrill, Maume, Patterson, Robinson, and Schockley lines, among others. Additionally, she has added some primary documents to her page, most of which center around the above lines, but nonetheless include information regarding other families. These include NJ and VA Early Records of Branson and Associated Families, North Carolina Rowan County Marriages, Tennessee 1850 Census for Abbott, Merrill and Patterson, Wills of Maryland Early Immigrants and Yorkshire: Halifax Parish (England) Wills 1451-1558. That's just a part of her page! To top it off, she has added well documented stories about her ancestors, as well as biographies about ancestors of note. Do visit Pat's page, or feel free to e-mail her at: patpnyc@escape.com
1998
APRIL PAGE OF THE MONTH
Jarvis Family Home Page! If you are researching in North Carolina, you will especially love this page by Faye Jarvis Moran and her cousin, Elizabeth Harris! It contains a wealth of information regarding North Carolina research, particularly the counties of Forsyth, Rowan, Surry, and Stokes. Elizabeth is working on a general database of early settlers in the Moravian community around Winston- Salem, North Carolina. (not necessarily Moravian) Additionally, there are over 160 family pages along with their descendants. Besides family wills and family cemeteries there is an 1850 Head of Household census for Forsyth County, NC; emigrants to Bath County, NC; a 1759 Rowan County, NC Tax List; Revolutionary War Pension applications for Stokes and Surry Counties; Wilkes County, NC Officers, 1778-1878; NC Loyalists during the Rev. War and more! Enjoy visiting this delightfully informative home page, or else write to Faye at: fmoran@erols.com or to Elizabeth at: chlamy@acpub.duke.edu
1998
MAY PAGE OF THE MONTH
New England Families Rendezvous by Gloria (Odom) Trommler! For those researching their New England ancestry, Gloria's page is a great place to visit! Lines being researched by Gloria include AYRES (descendants of Capt. John AYRES of Brookfield, MA), OSBORN, ODOM, CRISP, GUNN and COZART or COSSART. Gloria has been researching these lines with much diligence as evidenced by her notes and documentation. She has included wills, obituaries, marriages, deed abstracts, etc., regarding these various lines. Other great features of her page include a look-up service from selected books and a fun Epitaph Puzzle. Additionallly, her Boston Transcript Archives (old newspaper queries from around the early 1920s) are a fantastic addition to her page. While you visit Gloria's home page you can enjoy some nice background music! You may also write to her at: ocnbreez@epix.net
1998
JUNE PAGE OF THE MONTH
From Cemetery to Tree by Mary Jean Williams! Mary Jean specializes in Susquehanna County, PA research and is a very dedicated researcher. Her wonderful home page includes numerous items from Susquehanna County, such as selected recorded births, partial censuses, marriages, and obituaries. Also, there is an Index to the Register's Docket in Susquehanna County, Cemeteries of Susquehanna County and a 1912 list of Residents Over 70 years old in Brooklyn, PA. (Yes, that's in Pennsylvania, not New York!) Mary Jean's sought after surnames include Brown, Koch, Tewksbury, Voorhees, Williams and Wilmarth. Additionally, she has ancestors from Massachusetts, Connecticut and Vermont. (This is the area from which her Susquehanna County ancestors emigrated.) Do visit Mary Jean's page, or write to her at: maryjean@stny.lrun.com
1998
JULY/AUGUST PAGE OF THE MONTH
The Haas/Davenport Home Page -Dedicated to Helping Family Genealogists by Linda Haas Davenport! This gem of a page is much more than a list of surnames. Linda is truly committed to "helping family genealogists." The sections of her page which do this include: Military Records and How to Use Them, History and Use of Land Records, Where to Obtain Land Patents and Warrants, List of NARS Microfilm for War Records and Pension and Warrant Files, Diaries of Southern Women During the Civil War, Petitioners of Lincoln County, NC, Monroe County, MS Cemetery Locations, and more! Additionally, the surnames which she is researching include: Haas, Davenport, Gibson, White, Justice, Lewallen, Allen and Brown. Do visit this very worthwhile page, or else write to Linda at: lhaasdav@mindspring.com
1998
SEPTEMBER/OCTOBER PAGE OF THE MONTH
The Roll Family Genealogy Windmill: Home Page of William Henry Roll! This well designed, easy to navigate page is about more than just the ROLL family. It offers wonderful background material for anyone involved in Dutch research in New Netherland! The main surnames researched are of course ROLL and VAN WOGGELUM, but the information carefully researched about New Netherland is helpful to anyone. Included is information about the Canastagione Deed; the Reformed Dutch Church at Port Richmond, Staten Island, New York; the Old Fort in New York; New Amsterdam Windmills; history of New Netherland/New Amsterdam; the Dutch trading companies, and for those who want to know the old names of the various towns, a section on the Dutch Boroughs of Brooklyn. For a prime example of a dedicated researcher, be sure to visit William's page, or else write to him at: wroll@redrivernet.com
1998
NOVEMBER/DECEMBER PAGE OF THE MONTH
Linnea Miller's Home Page! For those who are seeking information about Lebanon County, Pennsylvania, (Lebanon County was formed from Lancaster and Dauphin Counties.) this is definitely a page to visit! Linnea is one of the most dedicated researchers whom I have found. Her page includes Early Tax Records, Ships' Passenger lists to Philadelphia in the 18th Century, and Cemetery Lists. Her specialty is Annville, Lebanon County, and for this she also has Annville Volunteers during the Civil War. Her cemetery lists include Annville's Oldest Cemetery; God's Acre in Heidelberg, Berks County, PA; Hostetter Cemetery in South Annville Twp.; and Miller Cemetery in North Annville Twp. Among Linnea's sought-after surnames are of course MILLER, as well as BREWER, GRUMBEIN, LANG/LONG, STROH, CASSEL, BERRY, BORDNER, LARSSON and many more. If you are looking for help finding your Lebanon County ancestors, do visit Linnea's home page, or write to her at: ltmiller@geocities.com
1999
JANUARY/FEBRUARY PAGE OF THE MONTH
Shirley Hornbeck's This and That Genealogy Tips! This is one of the most unique genealogy pages I have found online! Shirley has numerous genealogy tips on her page, all starting with "This and That" and they are not only informative but great fun to read. Just a few categories (all starting with This and That) include items about the Black Dutch/Irish, Melungeons, Moravians, PA Dutch, Canada, Cemeteries, Censuses, The Civil War, Death Records, German Records, Getting Started, Holidays, Immigration and Passports and much more! Ever wondered what the difference was between "relict" and "consort" or how to prepare for visiting that cemetery that might have copperheads slithering about? Or have you wondered about how to do a grave stone rubbing, or wondered on what date the census was taken in 1850, as compared to when it was taken in 1920? Well, do a little web surfing to Shirley's home page and you are in for a treat! Oh, and Shirley does share her sought after surnames with us as well! So, if you wish to "add the icing to the cake" with your genealogical research, just make a visit to Shirley's home page, or write to her at: Hornbeck@s-hornbeck.com.
1999
MARCH/APRIL PAGE OF THE MONTH
Cemetery Interment Lists on the Internet by Steve Paul Johnson! Normally I have been giving this award to pages which include surname listings as well as provide a service to the genealogical community on the Internet, but Steve's page has one of the best listings of cemeteries that I have found on the Internet, including cemeteries for Australia, Canada, the United Kingdom, the United States, and other countries. He also has included Native American Cemeteries and some selected links to DAR records. (The DAR collects Bible records, cemetery records and more.) Not only does his page provide a wonderful service to those doing genealogical research, but it is well designed, easy to navigate and pleasing to the eye as well. Do check out his web site and when you find a cemetery listing that is not on his page, Steve will be happy to hear from you. You may contact him at: steven@deltanet.com.
1999
MAY/JUNE PAGE OF THE MONTH
Canadian Great War Homepage by Brian Lee Massey! This well designed and easy to navigate home page has a wealth of information regarding Canada's role during World War I. Brian has done an excellent job of sharing pertinent information needed for the Canadian researcher. Topics include Statistics; Timeline; Major Battles (with a very good map); Army; Navy; Air Force; Heroes; Soldiers Biographies; Letters Homes; Victoria Cross Winners, Women in the War and Famous Canadians. Since the Canadian Great War Homepage is part of the Canadian Military Heritage Project, some of these topics will now be found on the The Canadian Military Heritage Project Homepage. To find out more about the role your Canadian ancestor played during World War I, do visit Brian's homepage, or write to him at: bmassey@technologist.com.
1999
JULY/AUGUST PAGE OF THE MONTH
Medieval Scandinavia by Stine and Tom Bjornstad of Norway! Stine and Tom have one of the most comprehensive sites online for Scandinavian history and genealogy. Topics include the Vikings; Ringerike; the History of Hadeland Glassverk (Glassworks); the History and Regality of Scandinavia; Norse Mythology; National Costumes; Stave Churches; Local Archaeology; and their own Family History and Genealogy. They have not only designed their site tastefully and beautifully, but they have done a beautiful job writing all of this information in English, which is not their native tongue! So, even if you do not have Scandinavian ancestors, do visit Stine and Tom's wonderful home page. After visiting, maybe you *will* discover a heretofore "hidden" Scandinavian ancestor, or at the very least, suddenly have a strong desire to visit their lovely country.
1999
SEPTEMBER/OCTOBER PAGE OF THE MONTH
The Whitesville Family Web Site by Gary Phillips! This is an excellent web site regarding Monmouth County, NJ and Ocean County, NJ genealogy! Not only does this site include Gary's surname interests - White, Estelle, Reynolds, Skidmore, Worth, Grover, Campbell, Richmond, etc., but it includes some note-worthy genealogical data. Cemetery lists are included on this page - Hope Chapel, Cassville Methodist, Grover Methodist, Harmony, Woodlawn, Bethel [Southard Methodist], and Ocean County Memorial Park. Gary has included good history as well, for some of these places. One will also see Honor Rolls for the Revolutionary War and the Civil War, as well as a Family Forum (for posting and exchanging information). If you have interest in Monmouth County or Ocean County, New Jersey research, or if you just want to visit a good genealogy page, be sure to visit Gary's page or write to him at: gary@whitesville.net.
1999
NOVEMBER/DECEMBER PAGE OF THE MONTH
Prairie Creek Families Home Page Tastefully designed by Kim Holly, this is an excellent web site regarding Vigo County, Indiana. This site has many categories and research opportunities, such as Biographies, Census, Farm Indexes, Businesses, Churches, History, Mortality Schedules, Surname Registry, Cemeteries, Doctor's Diary, History, Pictures and What's New. A Prairie Creek Message Board is most helpful. A few of the surnames which Kim is researching are: BARNES, FARTHING, GREGORY, HARPER, JACKSON, STAATS, and TROUTMAN. Additionally, there is a site index, which is most helpful. So if you are looking for your Indiana ancestors, do visit this site, or else e-mail Kim at: Kimh@cwnet.com.
A special thank you goes to David E. Ristenbatt for creating the On the Trail of Our Ancestors graphic at the top of this page.
This website is provided courtesy of Ristenbatt Vacuum Cleaner Service, Inc.
Copyright © 1996-2015 Donna E. Ristenbatt All rights reserved.
The bevelled buttons at the bottom of this page were designed
and created by David E. Ristenbatt and are copyrighted.
This site may be freely linked to but not duplicated in any fashion without my written consent.