Page Location: TrailofOurAncestors.com/13thnj.htm
13th NJ Civil War Regiment

Following is a summary of the activities and engagements of the 13th New Jersey Regiment during the War of the Rebellion, or Civil War, as it is more commonly called in the United States.
ORGANIZATION: Organized at Camp Frelinghuysen, Newark, N.J., and mustered in August 25, 1862. Left State for Washington, D.C., August 31, 1862. Attached to 3rd Brigade, 2nd Division, 2nd Corps, Pope's Army of Virginia, September, 1862. 3rd Brigade, 1st Division, 12th Army Corps (Major General Henry Slocum's), Army of the Potomac to October 1863, and Army of the the Cumberland, to April, 1864. 2nd Brigade, 1st Division, 20th Army Corps, Army of the Cumberland and Army of Georgia, to June, 1865.
New Jersey Monument, Antietam National Park at Sharpsburg, Maryland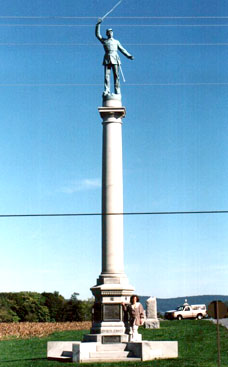 13th NJ fought at Battle of Antietam, September 17, 1862
SERVICE: Camp near Fort Richardson, on Arlington Heights, VA, September 2, 1862. Expedition beyond Rockville, MD, September 6-9. Battle of Antietam, MD, September 16-17. At Maryland Heights September 23-October 30. Picket duty near Sharpsburg, MD, October 30-December 10. March to Fairfax Station, VA, December 10-16, and duty there till December 26. Picket duty on the Occoquan January 4-20. "Mud March" January 20-24. At Fairfax Station until April 27. Chancellorsville Campaign April 27-May 6. Battle of Chancellorsville May 1-5. Gettysburg (PA) Campaign June 11- July 24. Battle of Gettysburg July 1-3. Pursuit of Lee to Manassas Gap, VA, July 5-24. Picket duty at Kelly's Ford July 31- August 15, and at Racoon Ford to September 24. Movement to Stevenson, Alabama, September 24-October 4. Guard Nashville & Chattanooga Railroad till April, 1864. Atlanta, GA Campaign May 1- September 8, 1864; Demonstration against Rocky Faced Ridge May 8-11. Battle of Resaca May 14-15. Near Cassville May 19. Advance on Dallas May 22-25. New Hope Church May 25. Battles about Dallas, New Hope Church and Allatoona Hills May 26 - June 5. Operations about Marietta and against Kenesaw Mountain June 10-July 2. Pine Hill June 11-14. Lost Mountain June 15-17. Gilgal or Golgatha Church June 15. Muddy Creek June 17. Noyes Creek June 19. Kolb's Farm June 22. Assault on Kenesaw June 27. Ruff's Station, Smyrna Camp Ground, July 4. Chattahoochie River July 5-17. Peach Tree Creek July 19-21. Siege of Atlanta July 22-August 25. Operations at Chattahoochie River Bridge August 26-September 2. Occupation of Atlanta September 2- November 15. March to the Sea November 15-December 10. Sandersville November 26. Montieth Swamp December 9. Siege of Savannah December 10-21. Campaign of the Carolinas January to April, 1865. Brigade train guard January 17-27. Division train guard to February 10. Occupation of Columbia February 16-17. Occupation of Fayetteville, NC, March 11. Averysboro March 16. Battle of Bentonville March 19-21. Occupation of Goldsboro March 24. Advance on Raleigh April 10-14. Bennett's House April 26. Surrender of Johnston and his army. March to Washington, D.C. via Richmond, VA, April 29-May 19. Grand Review, May 24. Mustered out near Washington, D.C., June 8, 1865.
CASUALTIES: Regiment lost during service 3 Officers and 71 Enlisted men killed and mortally wounded and 44 Enlisted men by disease. Total 118.
SOURCE: A Compendium of the War of the Rebellion by Frederick H. DYER, late 7th Connecticut Volunteers; The Press of Morningside Bookshop, Dayton, Ohio.
ADDITIONAL INFORMATION: I was recently able to glean a bit more information about this Regiment, after a visit to the National Military Park Visitor's Center at Chancellorsville, Virginia. A very kind and knowledgeable Park Ranger showed me the maps of the Battle of Chancellorsville, which give all the regiments and their positions on each day of the battle. I can see now why my great great grandfather, Henry H. Speer, Jr., was shot in the arm on May 3, 1863. During this battle, the 13th New Jersey was in the thick of the fight, right at the front line. On May 3rd, this regiment was in a vise between two sections of the Confederate Army. Their battle location would have been very close to Hazel Grove, which is Stop #9 on the National Park Service map for the Battle of Chancellorsville. I also learned from this Park Ranger that the "baptism of fire" for this Regiment was the Battle of Antietam, which is indicated by the service information above. Additionally, the 13th NJ Regiment was at the Battle of Gettysburg, but did not see all the action that the 12th Corps did. As indicated previously, their Gettysburg location was near Culp's Hill and Spangler's Spring.
13th NJ Monument Dedication, Gettysburg National Park, Gettysburg, PA
13th NJ Monument Dedication July 1, 1887 at Gettysburg National Park
Photo compliments of Art Stone from the 13th NJ Reactivated Regiment
If anyone knows the names of any of these soldiers, please contact me at DRistenbatt@dejazzd.com.
It is possible that my great great grandfather, Henry H. Speer Jr. is in this photo.
This website is provided courtesy of Ristenbatt Vacuum Cleaner Service, Inc.
Copyright © 1996-2015 Donna E. Ristenbatt All rights reserved.
The bevelled buttons at the bottom of this page were designed
and created by David E. Ristenbatt and are copyrighted.
This site may be freely linked to but not duplicated in any fashion without my written consent.